One Tech Enterprise,
No.49-2, Jalan SL11/7,
Bandar Sg Long 43000 Kajang,
Selangor, Malaysia.
Tel: +603-9019 3257
Fax: +603-2034 9496
Email: enquiry@barudan.com.my
For Pinang and Johor Branch, please click here



LM-50 3/16
Vari-O-Matic
L-Series (Long Armbed)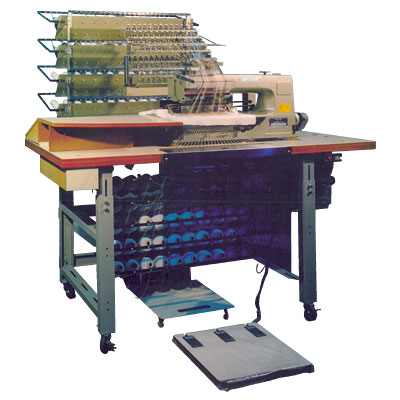 | | |
| --- | --- |
| Product Features | |
As the underarm space of the machine is so wide as 240mm, it is the most suitable for manufacturing wide pattern products. The maximum number of needles used is 50, and the largest total needle gauge is 9-1/4 inch (235mm), and it is possible to select a suitable gauge of 1/8 inch (3.2mm), 3/16 inch (4.8mm) and 1/4 inch (6.4mm), are available, and required special gauge within 9-1/4 inch (235mm) can be ordered. The mechanical point of the Machine is that the distances between the clamps and the tops of the needles are made different. In the conventional multineedle machine, the tops of the needles were aligned. All needles stuck into the surface of the cloth at the same time. Thanks to this, high power was given on the driving mechanism. Especially in the case of using 25 needles, positions where needles stuck shifted and stitch line curved. By adopting the new system, smooth and beautiful finishing is done. (Patent Pending)
The main application of the machine range from decorative stitches, shirring, Vari-Tucking, etc. of dress, blouse, skirt and knitwear to the wave stitches used flexible section of kilts, skiwear, pant and snowwear.
Vari-O-Matic
N.Vari-Tuck & Smocking Series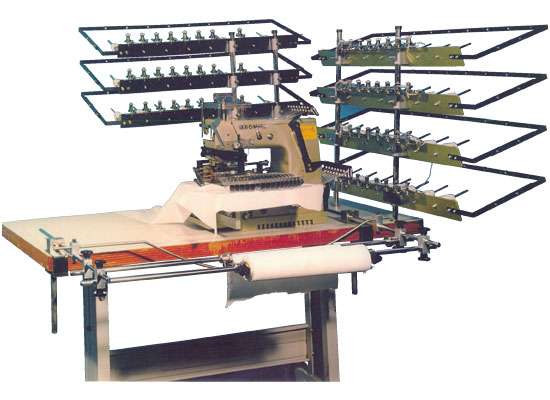 | | |
| --- | --- |
| Product Features | |
This is the only one epochal making pin-tuck, smocking machine in the world that is combined the newest smocking machine which enables to make solid patterns by 4-row shuttle plate of double-row system with N.VARI-TUCK machine which enables to make many pin-tucking patterns by fabric guides changing system. Presently, fashion combining many kinds of ornamental stitches not of simple design meets the public taste. Pin-tuck smocking patterns bring forth the newest fashion fit to the modern feeling.
This machine makes patterns diversified by including smocking patterns in a part of pin-tuckings. Making the most of its characteristics, high grade design are possible. Of course, it is possible to use one machine for smocking and for pin-tucking individually. At present, if you should require only to sew pin-tuckings, further if you are requiring to sew smockings for the future, this machine which works full in a small expense is recommended.
All specifications subject to change without notice.